6 Benefits of Picking WordPress for Your Website Platform
When you're ready to start a website for your business or brand, there's a lot to think about. You have to figure out how you're going to actually build the website, what you want the design to look like, and which hosting service you're going to choose. But with all the design and hosting services available, the options can become overwhelming. Among all the available options, WordPress continues to stand out as a giant in the website platform arena. Here are the six main benefits you get when you choose WordPress as your website platform.
1 – Easy Migration and Monitoring
Yes, WordPress is a powerful website builder, but it can only do so much in terms of actual hosting. When you choose an alternate provider to host your website through WordPress, you get additional power and resources to help run your site. HostForWeb offers free website migration that takes only a manner of minutes. So, if you already have the perfect website built on WordPress, you can keep your design and continue to use the platform you're used to while gaining additional hosting support.
2 – Professional Designs
WordPress is a popular website builder because it offers a variety of pre-built themes with professional and clean designs. Many of these themes are free, and there are dozens more with premium hosting options. By choosing a theme, all you have to do is replace the stock text and images with your own information, and you've got a well-designed and professional website in a matter of minutes.
Additionally, there are plenty of designers out there making their own themes for use in WordPress. You can do an online search to find hundreds more WordPress themes. You can even hire a designer to build one specific to your tastes and aesthetics. This way, you have a reusable theme that you can easily apply to any future websites you may need.
3 – Easy Use
WordPress was designed to help the average user build and maintain an amazing website. With a visual editor, you don't need to know any coding to be able to create the perfect design for your website. But if you do have coding knowledge, you can adjust the CSS coding of your website to help get the exact look you have in your head.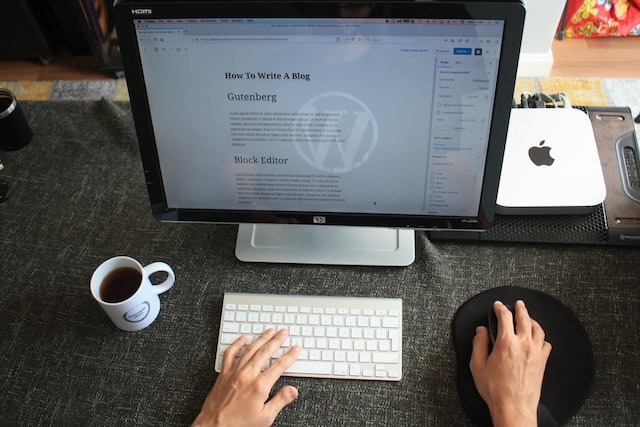 Photo by Fikret tozak on Unsplash
The design of your website isn't the only part that's easy to use. Editing the content of pages and posts is easier than ever, and all is well organized with WordPress's dashboard. Because it was designed for bloggers, not computer programmers, anyone can easily navigate WordPress, even if it's their first time creating a website. When you host a WordPress website through HostForWeb, you get their familiar and easy-to-use design options with the powerful support of a leading hosting provider.
4 – Widgets
WordPress has a host of widgets and third-party applications that can help you run and manage your website. You can incorporate your social media posts into your design, track your SEO scores on your blog, and even create events to which users can RSVP. More widgets and applications are being created and added to WordPress every day. And if you're comfortable with computer programming, you can even make your own widgets to perfectly match the needs you have. With the combination of widgets available through both WordPress and HostForWeb, you can create nearly any website you want, with any user interaction you need.
5 – Community
WordPress was originally created as a place to host blogs. While it does so much more these days, the blogging community is still at the core of WordPress. With a WordPress website, you can interact with other businesses and brands, building bonds and forming a community. Users can comment on your blogs and follow your feed, and you can do the same back. By being able to connect to your users and peers, you get feedback on your business and can gather ideas on how to make it better. You also form friendships and partnerships that can help you excel later down the road.
6 – Multiple Users
Unless you're working solo, there's a chance you'll have at least one other person who might need access to your website. Perhaps you've hired a designer to help update your site or a blogger who can help keep pushing content. Either way, they'll need access to your website. However, you probably don't want to give them your personal login information.
WordPress allows you to create additional users that can go in and access your website. Each user can have a different security level set, so your hired blogger can't go in and start changing everything around. WordPress allows you to create a website that you and your business partners can all access without stepping on each other's toes.
WordPress Hosting Services with HostForWeb
At HostForWeb, our hosting plans are optimized for WordPress integration. Whether you only need a simple shared hosting plan or a fully dedicated server, we can help. By seamlessly merging our hosting services with WordPress's powerful website builder, we help you get the best of both worlds. Our 24/7 customer support is available with trained and experienced technicians that can help you no matter which step of the way you're on. If you're ready to experience the beautiful design of WordPress with the enhanced hosting power of HostForWeb, you can browse our available options online or give us a call at 1-833-201-8322 if you have any questions.